Fiona's visit is going very well. We had a nice weekend. The ladies went up Mount Washington earlier in the week. On Friday they went down to Combs and Qualicum Beach, had a nice lunch at Cuckoos. Jo had lasagna (brought me back some) and Fiona had a seafood pizza. On Saturday, we all went downtown Courtenay, had brunch at Atlas (excellent as always) and then kind of split up and wandered around downtown for an hour or so.
I managed to buy a couple of books at 2nd Page Books, the used book store on 5th Street. Oh, we also took Fiona to a few open houses in case she ever decides to move to the Valley. Yesterday was a bit of a lazy day, although we did drive down to Goose Spit and wander around the shoreline. Today they are out with Karen, a friend of ours who is also a real estate agent, checking out another place and then going to lunch. So it's been fun and busy. On Tuesday, I think, the Jo and Fiona will be going down to Victoria, spending the night and then Fiona will be flying out Wednesday morning. It'll be a quiet place. Even the puppies will miss her. They still bark a bit, but it's nothing like it has been.
Book Purchasing
I bought two books on Saturday, one mystery and one fiction.
Leaving Everything Most Loved
by
Jacqueline Winspear
. This is the 10th book in Winspear's Maisie Dobbs' mystery series. I've read the first book so far and enjoyed. I do like a historical mystery. This is the synopsis.
"London, 1933. Two months after Usha Pramal's body is discovered in the waters of a city canal, her brother, newly arrived in England, turns to Maisie Dobbs for help. Not only has Scotland Yard made on arrests, but evidence indicates they failed to conduct a full investigation. Usha had been staying at an ayah's hostel, a refuge for Indian women. As Maisie learns, Usha was different from the hostel's other residents. But with this discovery comes new danger, as a fellow lodger who was close to Usha is found murdered.
As Maisie is pulled deeper into an unfamiliar yet captivating subculture, her investigation becomes clouded by the unfinished business of a previous case, and by a growing desire to see more of the world. At the same time, her lover, James Compton, gives her an ultimatum she cannot ignore."
Carol
by
Patricia Highsmith
. This was Highsmith's 2nd novel, written after Strangers on a Train. It was published initially as The Price of Salt. The book was recently turned into a movie starring Cate Blanchett and Rooney Mara. This is the synopsis.
"Based on a true story plucked from Highsmith's own life, Carol tells the riveting drama of Therese Belivet, a stage designer trapped in a department store day job, whose routine is forever shattered by a gorgeous epiphany - the appearance of Carol Aird, a customer who comes in to buy her daughter a Christmas toy. Therese begins to gravitate towards the alluring suburban housewife, who is trapped in a marriage as stultifying as Therese's job. They fall in love and set out across the United States, ensnared by society's confines and the imminent disapproval of others, yet propelled by their infatuation."
Great Historical Events
We commence our excerpt in 1763 with Chief Pontiac.
"Chief Pontiac's War.
A sagacious Ottawa Chief and a former ally of the French, secretly effected a confederation of several north-western tribes of Indians, for the purpose of expelling the English. Within two weeks he seized nearly all of the English posts west of Oswego, but he was soon subdued and his war brought to an end.
The Stamp Act.
1765. March 22. - Passage of the Stamp Act. This act required the people to purchase for specified sums, and upon all written documents, Government stamps must be placed. This act caused the most intense excitement and indignation in America.
(Ed. Note
. And this caused the Revolutionary War?)
First Medical College established in Philadelphia.
Oct. 7. - A congress of 27 delegates convenes at New York, and publishes a declaration of rights and rules against the Stamp Act.
1766. March 18. - Stamp Act repealed.
Methodism first introduced into America by Philip Embury and Capt. Webb, a British officer whom Wesley had ordained as a local preacher.
1762. June. - Tax laid on paper, glass, tea, and painters' colors."
Next entry will start with the Mason and Dixon line and what it meant.
Science of Common Things
This section was prepared by Prof. L.G. Gorton. (I've googled him and was unable to find out anything about this man.) So let's see what is discussed in this excerpt.
"Why do we breathe? To purify the blood. How does breathing purify the blood? The oxygen of the air combines with the carbon of the blood, forming carbonic acid. Is the air we exhale lighter or heavier than pure air? At first, being rarefied by the heat of the body, it is lighter, but upon cooling it becomes heavier and descends. Accordingly rooms should be ventilated both at the top and at the bottom. What is carbon? It is an elementary substance, and is found in great abundance in nature. It exists in three forms, viz., charcoal, graphite and diamond."
Next excerpt we learn why it is dangerous to burn charcoal in rooms....
The Birthday Thing 10 November 1977
US Billboard #1 Single 10 November 1977
You Light Up My Life
by
Debby Boone
. Well, this is one of my least favourite songs. Debby Boone is the daughter of Pat Boone. She is an American performer, born in 1956. You Light Up My Life, written by Joe Brooks, was her only #1 pop single.
UK #1 Single 10 November 1977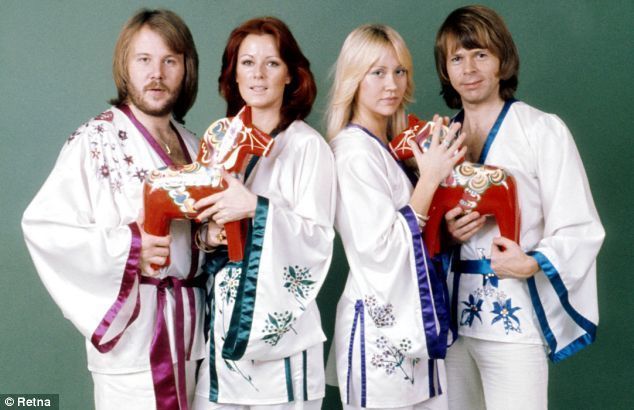 The Name of the Game
by
Abba
. Swedish group, Abba, have to have been one of the most successful pop groups ever. They have a joint record of 8 consecutive #1's in the UK. The Name of the Game was their 6th #1 single in the UK.
New York Times #1 Fiction Best Seller 10 November 1977
The Silmarillion
by
JRRR Tolkien
. The Silmarillion was a set of works by Tolkien, edited and published posthumously by his son Christopher. I did have this book at one time. I had enjoyed The Hobbit and The Lord of the Rings so very much that I thought I might want to read this as well. Unfortunately or fortunately, I never got around to reading it. Did I miss anything?
Pulitzer Prize Winner for Fiction 1977
No Pulitzer Prize winner for fiction was selected in 1977.
Nobel Prize Laureate 1977
Vicente Aleixandre
(Spain). Vicente Aleixandre was a Spanish poet who lived from 1898 - 1984. He was awarded the Nobel Prize 'for a creative poetic writing which illuminates man's condition in the cosmos and in present-day society, at the same time representing the great renewal of the traditions of Spanish poetry between the wars.'
Hugo Award Winner 1977
Where Late the Sweet Birds Sang
by
Kate Wilhelm
. This is both an unfamiliar book and author for me. It is a post - apocalyptic novel written in three parts; Where Late the Sweet Birds Sang, Shenandoah and At the Still Point.
Before it was published as a novel, the first part was published in Orbit magazine, a popular Science Fiction magazine which Wilhelm contributed to regularly and helped edit.
The title of the book is from a Shakespeare sonnet. Wilhelm was born in 1928 and has written mysteries, fantasy and science fiction since 1955.
Edgar Award Winner 1977
Promised Land
by
Robert B. Parker
. This was Parker's 4th Spenser for Hire novel. His last, his 40th, was published posthumously in 2011. He is also known for his Jesse Stone mysteries and Cole and Hitch. I have yet to read a Parker mystery but I have begun to acquire his Jesse Stone mysteries. If I enjoy them I may also try his Spenser books.
Robert B. Parker lived from 1932 - 2010. In Promised Land, Spenser is hired to find real estate developer Harvey Shepard's runaway wife. The story involves bank robbery, difficulties between husband and wife and problems with loan sharks. (Darn it, I'm sure I'll have to try this series as well.)
Man Booker Prize Winner 1977
Staying On
by
Paul Scott
. Paul Scott was especially known for his Raj Quartet; The Jewel in the Crown, The Day of the Scorpion, The Towers of Silence and A Division of the Spoils.
Staying On features two characters mentioned in the last two books of the Raj Quartet, Tusker and Lucy Smalley, who are the last British couple living in the hill town of Pankot after Indian independence. The story tells all about the life of an expat as told mainly by Lucy.
I have recently purchased the first book in the Raj Quartet and am looking forward to reading it. Paul Scott was an English writer and poet who lived from 1920 - 1978.
So there you go. Tomorrow I'll move along to 1978. Can't wait, can you. :0)