Last year, I added an additional Individual reading challenge besides my Alphabetical Mystery authors challenge. My wife might not believe this, but I've got quite a few books on my TBR shelf (just kidding there, she does know) and that includes many series that have been neglected over the past couple of years. So I chose 12 authors, some I'd read before, with a number of books sitting there that hadn't been read and decided each month to focus on one of the authors and use those books as my bed-time book. Hmmmm, maybe I should have called my bedtime author's challenge.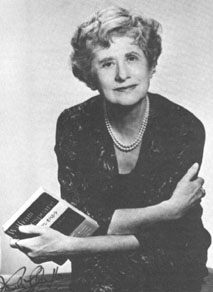 Ngaio Marsh
The Twelve Authors I chose in 2013 were -
1. Ngaio Marsh - author of the Inspector Alleyn mysteries
2. Phillip K. Dick - Science fiction writer
3. Charlaine Harris - Author of the True Blood books as well as the Lily Bard mysteries, the Harper Connelly and the Aurora Teagarden mysteries.
4. Jane Haddam - Author of the Gregor Demarkian mysteries
5. Ian Fleming - the James Bond books
6. C.S. Forester - Author of the Horatio Hornblower adventures
7. Edgar Rice Burroughs - Author of the John Carter of Mars books as well as countless other excellent Fantasy stories
8. Bernard Cornwell - Author of the Sharpe historic adventures
9. John D. MacDonald - Author of the Travis McGee mysteries
10. Alistair MacLean - Author of a variety of war, spy and adventure thrillers.
11. Ian Rankin - Author of the Inspector Rebus mysteries.
12. Ellis Peters - Author of the historical Cadfael mysteries.
Ellis Peters
Of these authors, only John D. MacDonald was a new author to me, I'd read at least one of each of the other author's books and, in some cases, quite a few. But this challenge gave me an opportunity to try and make a bigger dent in their writings and in some cases to re-introduce myself to their excellent works. At the moment, I am reading Ian Rankin's Inspector Rebus mysteries. I had previously read the first nine books in the series, but it's been a couple of years since I picked up another. I've finished
Dead Souls
so far and hope, by the end of the month to have finished the next book,
Set in Darkness
. For the most part I've managed to read 3 or 4 books by each author, but either I'm running out of steam as the end of 2013 gets closer or the Rebus books are a bit longer (I choose the latter). For December, my bedtime book with be the Cadfael mysteries. I've read 3 or 4 of the series so far and I think I'll manage to make a bit more of a dent in the series by end 2013. I've enjoyed the books and also the TV series, starring Derek Jacoby as the intrepid Cadfael.
So what to do for 2014?
Do I keep this challenge going? I do hear the many series on my TBR shelf calling out to me. 'Take me, Take me!!' I don't think I have much choice.
What I've tentatively decided to do (I do reserve the right to change my mind before year's end) is to not limit myself to 12 authors. Instead, what I'll do is limit myself to two books by each author over the course of the year. that way, I may get exposure to many more series and satisfy both myself and my demanding TBR shelf. Over the past couple... Er, few years I've gathered many series that seemed interesting, but that I just haven't had a chance to crack open yet. This might present me the opportunity to finally do that. I'm thinking of authors like Jefferson Bass of the
Body Farm
books, M.C. Beaton of the
Agatha Raisin
and
Hamish MacBeth
mysteries, Simon Brett of the
Mrs Pargeter
or the
Fethering
mysteries, etc.. Those examples are just the tip of the ice berg. Believe me! Then of course, I can also refresh myself with some of my favourite writers and series; Nevil Shute, Nevada Barr's
Anna Pigeon
books or Donna Leon's
Inspector Brunetti
mysteries. I think I will probably work the challenge this way, it'll let me read more authors and maybe keep me a bit fresher over the course of the year. :0)
Anyway, something for me to think about for the next month as I finish off 2014's reading selections. I've noticed that my Goodread's book group already has threads up for both the Reading Group and the Individual challenges. I'll give myself another few weeks before I add my challenges. Can't wait!!
Have a great day tomorrow.