Oh yes, that's the spot.. right there.. ahhhhhh!
I can't believe it's already December. Yesterday, the puppies had their end year grooming. Not sure if you can see from Bonnie's pose as she decided, just before I took the shot to roll over to scratch her back. It's definitely one of the things she enjoys most, besides eating... and barking at the neighbours... and eating Clyde's toys..
Aren't I adorable? It won't last, trust me.
Maybe you can see it better with Clyde, who is much more reposed in the morning, pretending butter wouldn't melt.. He can be cute, but he did manage to bark at our neighbour this morning when he surprised us on our morning walk, as he was starting his morning run.. the neighbour that is, not Clyde. Clyde just barked at him..
The missus cooked an excellent dinner last night; pork Marsala; tender pork chops, great sauce. I definitely needed my morning run today. So I guess I should get into books now. I've had an excellent year, reading-wise; achieved my goals, read some excellent books and am spending the last month reading books without worrying about challenges, just freebies. My November summary follows -
November Reading Summary
Nov Sub-total Total
Books Read
11 125 136
Pages Read
2900 38,475 41,375
Pages Breakdown
< 250 6 53 59
250 - 350 4 34 38
351 - 450 0 19 19
> 450 1 19 20
Author Gender
Female 5 38 43
Male 6 87 93
Ratings
5 - star 1 17 18
4 - star 7 64 71
3 - star 3 44 47
Genres
Fiction 1 20 21
Mystery 8 55 63
SciFi 1 33 34
Non-Fict 1 8 9
Humour 3 3
Classics 6 6
Top Three Books
Two mysteries and my one fiction entry make up my top three.
1.
Smallbone Deceased
by
Michael Gilbert
. This is the second book by Gilbert I read this past year and both were excellent, both 5 star reads.
"I've read a couple of other books by Michael Gilbert and have enjoyed them all so far. Smallbone Deceased ranks up there with Petrella at Q as my favourites of his, so far. Smallbone is a perfect little mystery. It's billed as an Inspector Hazelrigg mystery and, indeed, the good Inspector does play a prominent role.
But the supporting cast also adds very much to the story, especially poor Sgt Plumptree who has to wander around London interviewing possible witnesses. He is an inexhaustible man, a credit to the London Police Force. As well, there is Henry Bohun, the newest member of the offices of Horniman, Birley and Craine, who finds himself helping Inspector Hazelrigg with his investigation to a great extent.
The basic story is that a body, that of Mr. Smallbone, a client of the firm, is found in one of the firm's deed boxes, having resided there for a few weeks. This starts up the investigation, which I enjoyed following very much. There was an interesting steadiness to the investigation; I've mentioned Sgt Plumbtree already, but the rest of the team of investigators are all excellent. I'll highlight Mr. Hoffman who works through the paperwork, checking the firm's finances to try and find reasons for the murder.
The investigation moves at a nice, steady pace, allowing all of the characters time to inculcate themselves into your memory. They all are enjoyable; there is a nice humour at times that keeps the story light. All in all, the book was so very enjoyable, even the ending was satisfying. I will definitely continue to find more books by Gilbert to enjoy. (5 stars)"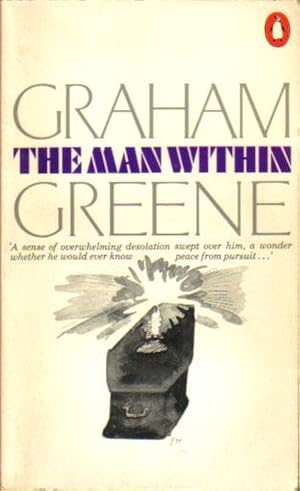 2.
The Man Within
by
Graham Greene
. I've really taken to Greene's writing the past few years; been searching for all of his books and reading one or two a year.
"The Man Within was Graham Greene's first published work, published in 1929 when he was 25 years old. Over the past couple of years, I've begun to explore his writing more and more; both his fiction and non-fiction. It was interesting to finally get a copy of his first book and see how it all started.
The story revolves around an English smuggler who, wanting to get out of the 'business', turns in his crew mates with an anonymous letter to the police. In the struggle to arrest the smugglers, one of the police is killed. Andrews, who was the person who turned in the smugglers, goes on the run to escape from the others. He is a self-professed coward who, in his escape, comes across a hut on the Sussex moors and meets a woman who will change his life. He is encouraged to give evidence against his comrades, an act that might have disastrous consequences.
I quite liked this story. It took a few pages to get into the flow, but it became a story I couldn't put down. Unlike Greene's later work, which acquired a finesse in his writing style, this story was very raw, emotional. Andrews is an introspective person, filled with self-loathing for his life style, his cowardice, but who falls in love deeply with Elizabeth and who wants to change for her. The story moves quickly, building in tension; it's definitely difficult to put down as you get into the flow. Excellent first story. I've got a number of Greene's other books still on my bookshelves and look forward to continuing my exploration with his writing. (4 stars)
3.
The Dragon Man
by
Garry Disher
. This is the first book in Australian writer Disher's Inspector Challis mysteries and I know I'll continue to read and enjoy the series.
"I enjoyed The Dragon Man, the first DI Hal Challis mystery, by Garry Disher very much. It's an Australian police procedural that moves along very nicely, is populated with many interesting characters and has many nice little twists and turns as the police team investigate the various cases that make up the story.
The basic story is the abduction, rape and murder of local women, but there are also other cases that may or may not be related; the woman from New Zealand who is living in the area under witness protection; a spate of arson attacks, break-ins, etc. The police investigation is lead by DI Challis, who also deals with regular calls from his wife who is in prison after trying to murder him; his current girl-friend, the local newspaper reporter; all the while working on rebuilding a damaged aeroplane.
The other members of the police team are all interesting personalities, with their own foibles and issues but are also an effective investigating team. The cases, as well, were very interesting and they were tied together very satisfyingly. An entertaining page turner that I finished in a day once I started it; excellent introduction to this series. (4 stars)"
Other Reads
4.
The Tiger in the Smoke
by
Margery Allingham
. This was a 3-star read, one of the Albert Campion mysteries
5.
Under the Dome
by
Stephen King
. This was a two month read. I started it in October and it was a book I could put down easily and then pick up again. But like any King book, it moved along, had lots of characters and action. Interesting concept and was also a successful TV series. (3 stars)
6.
The Cat Who Ate Danish Modern
by
Lilian Jackson Braun
. The second book in the Cat Who... mysteries. As was the first in the series, this was also nicely entertaining and light. Another series I'll continue to enjoy. (4 stars)
7.
Parkinson's Lore
by
Michael Parkinson
. Michael Parkinson is a household name in the UK and this book was a tribute to his growing up, his love of cricket and footie. Many funny stories and touching remembrances. (3 stars)
8.
Slow Curve on the Coquihalla
by
R.E. Donald
. This was the first book in the Hunter Rayne mystery series, a copy which was provided by the author for my perusal. Most enjoyable, great familiar setting (British Columbia) and interesting characters and plot. (4 stars)
9.
Fountain of Death
by
Jane Haddam
. This was the 12th book in the Gregor Demarkian mystery series. I've read 4 or 5 now, one of those series that I know I can pick up and enjoy the story. (4 stars)
10.
Overture to Death
by
Ngaio Marsh
. Another of my favourite mystery series, featuring Inspector Alleyn, intrepid detective inspector from Scotland Yard. this was most enjoyable, the 8th book in the series. Like Haddam, I know I can rely on Marsh to produce an excellent, entertaining story.
11.
In the Dark, Dark Wood
by
Ruth Ware
. This was the first thriller by English writer, Ruth Ware. It was definitely a thriller, very tense, and mysterious. (4 stars)
So there you go, my November reading highlights. I'm currently working through my first 4 December books and, so far, enjoying them all -
1.
The Professor
by
Charlotte Bronte
;
2.
Before I Go to Sleep
by
S.J. Watson
(I can guarantee that this will be finished very soon);
3.
Fractured
by
Karin Slaughter
;
4.
Wycliffe and the Death in Stanley Street
by
W.J. Burley
.
So there you go. Have a great December!!