Before I start my mid-year review, I just want to wish all my Canadian friends and family a Happy Canada Day. In the Comox Valley, specifically the town of Courtenay, besides celebrating Canada Day today, the city is also celebrating its 100th Anniversary. I've attached a
link
to the schedule of activities. 19 Wing Comox is participating as well, not only getting the Freedom of the City as part of the Courtenay celebrations, but also providing flypasts for communities throughout the province of British Columbia as part of their local celebrations. But for me specifically, I plan to relax, read a bit, watch the Blue Jays game against the Red Sox, hoping they can get back on a winning track and maybe even check out the activities in Ottawa at Capital Hill. (Of course, the latter two will be via television, not in person.)
OK, now to get down to my mid-year reading review. First the basics. Over the past six months, I've managed to complete 49 books. This leaves me well on track towards my overall 2015 goal of trying to finish 95 books. I've also read about 16,000 pages in the past six months.
Now for a few other stats -
Authors (Female/ Male)
Male - 31
Female - 18
Genres
Thriller - 7
Mystery - 26
Fiction - 3
Non - Fiction - 2
SciFi/ Fantasy - 5
Classics (pre-1900) - 2
Adventure - 3
Poetry -1
Ratings
5 - star - 7
4 - star - 27
3 - star - 15
2015 Reading Group Challenges
12 + 4 Reading Group Challenge
- I completed my first 12 + 4 challenge 3 Jun. Basically with that challenge, I read one book after another and used my other two books to read against other challenges. Of the 16 books, there were 3 five - star reads.
1.
Zoo Station
by
David Downing
, the first in the John Russell series, set during the run-up to WWII and set in Berlin.
2.
The Eyre Affair
by
Jasper Fforde
, the first Thursday Next fantasy/ mystery, a fun book with many literary references and just a joy to read.
3.
Gallows View
by
Peter Robinson
, the first DCI Banks mystery, set in England. A TV series has been developed based on the series, but the first book seems quite different. Both are very enjoyable.
12 + 4 Reading Challenge (Part Deux)
I have started a second challenge since I had half a year still to go when I completed the first. I've pulled 12 more books that are the start of new series for me and so far have completed two;
Maisie Dobbs
by
Jacqueline Winspear
, a period mystery and
From Doon with Death
by
Ruth Rendell
, the first Inspector Wexford mystery. Both ended up 4 star ratings. I'm currently working on
The Butcher's Boy
by
Thomas Perry
and enjoying so far.
Individual Challenges
I chose a variety of small challenges to try and encourage me to spread out my reading genres a bit and to encourage me to finish my 95 book total this year.
Classics (written before 1900)
- I've been trying to expose myself to more of the classics the past couple of years, reading one or two a year. This year, I'm hoping to read one per quarter, at least, and so far, I'm meeting my plan, having finished 2 Classics.
The Moonstone
by
Wilkie Collins
is considered to be one of the first mysteries and I enjoyed very much, rating it 4 stars.
The Mill on the Floss
is my second
George Eliot
selection the past two years and I enjoyed it just as much as
Daniel Deronda
, giving it a 5 - star rating. Eliot has a wonderful writing style. I plan to start my 3rd Classic this month and at the moment I'm leaning towards.
Vanity Fair
by
William Makepeace Thackeray
, written in 1848. I want to read that one because I enjoyed the movie starring Reece Witherspoon as Becky Sharp.
Non-Fiction (History/ Biography/ Travel/ etc)
- Once again, I hope to read 4 books for this challenge. So far I've read two,
Citizens of London
by
Lynne Olson
and
Neither Here nor There
by
Bill Bryson
. I'm not sure what my next choice in this category will be, possibly
The King's Speech
by
Mark Logue
.
Science Fiction (including Fantasy/ Alternate History/ SciFi/ Steam Punk, etc)
- This is wide-open category, there are so many variations in the SciFi/ Fantasy genre. This is another genre that I've slowly begun to start exploring again. I used to read all the time, but tastes change. I hope to read 6 books in this genre and so far have completed 3 books;
Crash
by
J.G. Ballard
(one of the strangest, and more interesting writers of the genre),
Blindness
by
Jose Saramago
and
Grave Peril
by
Jim Butcher
, one of the Dresden Files books, a series that I've been slowly savouring. As to my next book from this category, it will either be
Excession
by
Iain Banks
, a Culture book, or
Goliath
by
Scott Westerfield
, the third book in the Leviathan trilogy.
Fiction (written after 1900)
- another wide open category, from basic classic fiction to historical adventures. I hope to read 10 books in this genre and so far have completed 5, so right on track. My favourites so far has been
Somerset Maugham's
The Moon and Sixpence
, and
Peyton Place
by
Grace Metallious
, both five - star reads. I've also managed to delve more into the Sharpe and Hornblower adventure series, enjoying them very much and finally another book by the excellent story-teller,
Nevil Shute
. He never lets me down. I'm not sure which book I will read here next, but if I follow my tentative list, it will probably be
After Leaving Mr. Mackenzie
by
Jean Rhys
.
Mysteries (ongoing Series)
- I have so many series on the go, I really wanted to make a stab at reading another book in one of them this year. I hope to read 25 books in this challenge, but this will be the hardest to accomplish, especially since I added another 12 book challenge. So far, I've finished eight and am reading my ninth. I'm glad I decided on this particular challenge, as I've let many excellent series slip over the past couple of years. One of my favourites is the Jackson Brodie series by
Kate Atkinson
. I finished
One Good Turn
early this year and enjoyed as much as
Case Histories
. I've also enjoyed the 2nd Department Q book by Jussi Adler-Olsen, set in Denmark, the 3 John Madden historical mystery by Rennie Airth, the 7th Anna Pigeon (national park mysteries) by Nevada Barr and others. All excellent series, from historical mysteries to cozy mysteries to forensic mysteries. At the moment I'm reading 3rd Jack Reacher thriller,
Tripwire
by
Lee Child
and next on this list will probably be
The Palace Tiger
, the fourth Joe Sandilands historical mystery by
Barbara Cleverly
.
Mysteries (Standalones)
- There are a number of mystery (mystery/ spy/ thriller) writers that I enjoy who tend to write standalones, even if they might also have specific series on the go as well. I hope to complete 10 books in this challenge. So far I've completed six, so I'm well on the way. My favourite book has been by Canadian writer, Margaret Millar, an author whose books can be hard to find. She has an excellent writing style and
The soft talkers
was a joy to read. I also caught up with some of my favourites and some new writers; Karin Altvegan, John le Carre, Len Deighton, Alistair MacLean and James Kennaway. Next on my list will either be
The Mongolian Conspiracy
by
Rafael Bernier
or
The Dante Club
by
Matthew Pearl
.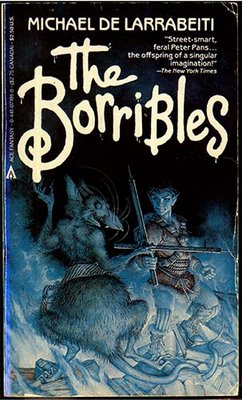 Rereads (Old Favourites)
- I've kept many books over the years that I enjoyed and I think it's time to dust some of them off and see if they are worth keeping. I've limited myself to 5 books in this category and so far have only managed to read one, that being
The Borribles
by
Michael de Larrabeiti
, a fantasy adventure. I enjoyed it again, the last time I read it was probably in the 80's in Ottawa. Having rekindled my interest, I found out there was a third book in the series, so I've acquired it recently. I think my next selection in this category might be
H. Beam Piper's Little Fuzzy
, but I do have other options.
Freebies (books purchased in 2015)
- I wasn't sure what to do with this challenge, but since I find myself regularly restocking my bookshelf with new books, I thought that maybe I'd try and read some of my 2015 purchases in 2015. What a concept! Now the books weren't necessarily written or published in 2015 as I do spend most of my time in used book stores, but there will be a mix. I had identified a quantity of 15 for this challenge and so far I've finished 4. At the moment I'm reading a memoir by Graham Greene, written in 1934 and enjoying very much. It details his journey through Liberia, Africa, at the time a very forbidding location. Well, so it seems anyway, I'll find out more as I get into the book.
So there you go, my look back at the first six months of 2015. I'll update as the year progresses. Maybe some of the books listed will give you ideas of your own.
Now to take the dogs out and see if the Blue Jays can hold this lead.