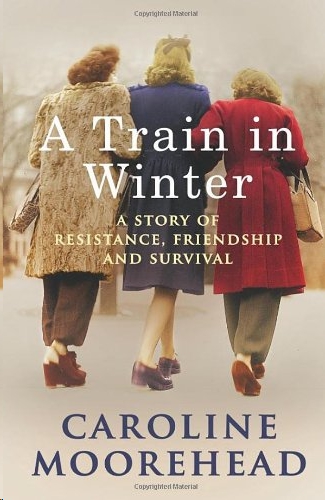 Top Ten Read # 6
After a day's break, back to my Top Ten Best Reads list of 2013. I saw this book when the missus and I were down in Victoria, BC for the Men's World Curling Championships in April. We like to go to some of our favourite areas while we're there; order in a curry from Da Tandoor (our favourite curry house), wander around Oak Bay with all of their little shops, etc. I usually take the Saturday morning while Jo is still sleeping in at the hotel and go to my comic book and used book stores right down town. Well, anyway, while we were wandering about Oak Bay, I went to Ivy's Book Store. (I posted about Ivy's Books in one of my first posts on this BLog back in 2010. This is the
link
to it, a very nice little shop)
Anyway, I saw
A Train in Winter
and the write up looked so interesting, I had to buy it and see if it was as good as it sounded. This was the write-up "On January 24, 1943, 230 women were placed in four cattle trucks on a train in Compiegne, in northeastern France, and the doors bolted shut for the journey to Auschwitz. They were members of the French Resistance, ranging in age from teenagers to the elderly, women who before the war had been doctors, farmers' wives, secretaries, biochemists, schoolgirls. With immense courage they had taken up arms against a brutal occupying force; now their friendship would give them strength as they experienced unimaginable horrors. Only forty-nine of the
Convoi des 31000
would return from the camps in the east; within ten years, a third of these survivors would be dead too, broken by what they had lived through. In this vitally important book, Caroline Moorehead tells the whole story of the 230 women on the train, for the first time. Based on interviews with the few remaining survivors, together with extensive research in French and Polish archives,
A Train in Winter
is an essential historical document told with the clarity and impact of a great novel. "
Sound interesting? Well, it lived up to all my expectations. It was a fascinating story about a group of amazing women who worked at first to fight the German occupation of France and then, when they were sent to Auschwitz, worked to stay together and to help each other survive. I realise that they were a small portion of the people who risked and gave their lives in the battle against Nazi Germany, but their story was also very unique and well-told. It was a bit confusing at times as there were so many people involved that it was difficult to remember who was who. But ultimately, this was a minor matter as the story itself was one of the more interesting stories about WWII that I've read. This was the review I wrote for my Goodreads' bookshelf. "Excellent history, well-told story. Disturbing subject matter, but still a must-read. Tells the story of one group of women, ladies who were part of the French resistance, who were taken prisoner by the Nazis or French Police, during World War II and ultimately sent to one of the Nazi death camps, Auschwitz in Poland. It's well organised, telling of their activities in the resistance, the terrible ordeals they were put through in Auschwitz and other places and ultimately the return of those who managed to survive to France and the adjustment to that new life, life without husbands, children, friends.. Of course, this story is just a microcosm of the killing machine of the SS, but it is presents a picture of heroism, friendship, survival (in some cases, too few cases), of torture, abuse.. It brought me to tears at times. Excellent."
It was well worth being in my Top Ten Best Reads of 2013. Number 5 tomorrow. :)