I'm taking a one day break from discussing my Top Ten Best Reads of 2013. In one of my clubs in Goodreads, an interesting question was posted; "Can you list 10 books that have affected your life? "
I thought it was an interesting way to look at books I've read, plus it was another list in the making. I spent the past couple of days thinking about this. I can't really say that any books have changed my life, but there have been a number of books I've read that have had powerful impacts on how I think. I don't think the list is perfect, but this is the list I provided to the site. So let's see -

Black Beauty
1.
Black Beauty
by
Anna Sewell
- I know I read many books before I ever received a copy, but I think that, along with Tom Sawyer, this is one of the first books I ever remember reading. I think I had two copies, one I got for Xmas and one that I received at school, maybe Grade 3, for either Perfect Attendance or for being an honour student (if you could call it that in Grade 3). It was an excellent story and I read it more than once. One of the books that started me on the road to being the voracious reader I am now.
Atlas Shrugged
2.
Atlas Shrugged
by
Ayn Rand
- I read this in my first year at university. I think being away from home for the first time, taking Political Science, many factors made it a powerful book for me. I liked the concepts of earning what you get, obtaining on merit, not because you felt someone owed you for whatever reason. I underlined many sections and still remember the line that appears throughout the book; "Who is John Galt?" I started reading the Ayn Rand newsletter afterwards. It was a ponderous book, but at the same time, fascinating. I had trouble putting it down. Nowadays, don't know what I'd think of it and whether I'd have the patience to read it, but it definitely struck a chord with me at the time.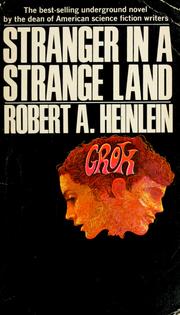 I grok
3.
Stranger in a Strange Land
by
Robert Heinlein
- Read this at university as well. Besides being a great story, I liked Heinlein's ideas on god; being that god is in you, god is you, you are god. And I still remember 'I grok', a Martian word meaning I understand, but more than that, completely so that it is part of you. The book also started a love affair with Heinlein's writing. I read many more of his books after that. He was a great story teller. I enjoyed so many of his books, The Puppet Masters, Starship Troopers, Friday (a favourite of mine), The Moon is a Harsh Mistress, Job:A Comedy of Justice. All were unique, some straight space adventures, others more thoughtful. But ultimately, all were excellent reads and some I read more than once.
The next four books are similar in a way, all deal with family but from different perspectives and all affected me in their own way, the writers bringing out a definite emotional response.
Harper Lee
4.
To Kill a Mockingbird
by
Harper Lee
- One I've expounded on many times. My all-time favourite book and movie. Everything about it; the story, the characters, all strike a powerful chord with me. Heroism, love, growing up.. excellent. I have blogged about this book before as part of an ongoing thread about my all-time Top Ten Favourite books. This is the
link
to my thread and comments. It is one of those rare books that stands the test of time. Its unfortunate that Harper Lee never wrote another book, but then again, how could you follow up such a work of art?
5.
A Tree Grows in Brooklyn
by
Betty Smith
- I saw the movie based on the book, first. It was released in 1945, was an excellent story, demonstrating Francie's perseverance and desire to improve herself and her family condition. An alcoholic, shiftless father with a good heart and a mother struggling to keep the family together in depression era New York. It's a heartfelt story of love and family. I read the book a few years later and it was also excellent. Great characters, a great story which touches your heart. Very powerful.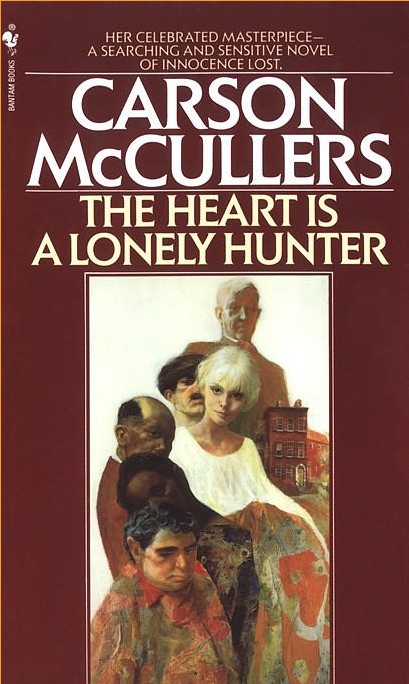 6.
The Heart is a Lonely Hunter
by
Carson McCullers
- I saw the movie first, many years ago and Alan Arkin as Mr Singer and Sandra Locke as young Mick created such wonderfully touching characters. It's a wonderful story, told from the perspectives of both Mr Singer, a deaf mute who lives with Mick and her family, and teenage Mick who is growing up and learning about life from Mr Singer and his friends, a quirky, amazing group of people. It's so interesting to feel Mr Singer's perspective, his ability to communicate with his friends, even with his handicap. Each has issues with which to deal, but the progress of the story and the emotion it evokes makes it an influential, touching story.
Who Has Seen The Wind
7.
Who Has Seen the Wind
by
W.O. Mitchell
- In my first year of university, I took a Canadian Lit course and this book was one that introduced me to the imagination and writing talents of Canada's fiction writers. This story both represented the best in Canadian fiction to me and also a lovely story of family and growing up in the Canadian prairies. It was a gently story of Brian Connal, the son of the town pharmacist, a young boy coming of age in Depression-era Saskatchewan. The story is a series of incidents, each helping Brian grow. Some are as simple as watching a buddy pull the tail off of a gopher to more traumatic incidents dealing with health of his father, a man who he loves very much. It's a wonderful story and encouraged me to explore Canadian fiction, something I continue to do to this day.
Ursula K. LeGuin
8.
The Left Hand of Darkness
by
Ursula K. LeGuin
- Published in 1969, this was one of the first SciFi stories I read in my Science Fiction novel course. The story was such a unique concept, dealing with sexual androgyny on the planet Hain. It was the perfect example of how Science Fiction deals with worldly situations that are often difficult to deal with in normal fiction. It was a fascinating story of love on a distant planet, a story that drew me in and held my interest from the first page until the very end. I've read other LeGuin stories and found them unique as well, but this story is one of the most interesting, different stories I've ever read.
Nevil Shute
9.
On the Beach
by
Nevil Shute
- This book has always been one of my Top Ten reads, a book I've read many times and which affects me every time I've read it. Dealing with a post-apocalyptic world, it was written in 1957, during a period when the threat of nuclear war hung over the world. Nevil Shute is one of my favourite story-tellers and has written some of my favourite books, including Pied Piper. He tells his stories in such understated ways, but deals with profound subjects. This is probably his most powerful story, dealing with the end of the world due to a nuclear war. Even with such a depressing subject matter, he manages to imbue the story with love and positive emotion, all in a gentle, caring manner. A book that never fails to touch me and which lead me to search out many other excellent books dealing with similar subject matters.
Walk Two Moons
10.
Walk Two Moons
by
Sharon Creech
- Start with a children's book, end with one. An odd choice, but I read this to my oldest daughter when my life was in turmoil, going through a divorce and financial difficulties. I struggled to read the last chapters as it was a very emotional story and I was very emotional..
So there you have it, ten books that had an emotional impact on me.. I recommend any of them. Tomorrow back to my Top Ten list...