Since my last entry, I've finished 3 books.
1.
Tarzan of the Apes
by
Edgar Rice Burroughs
.
"Tarzan of the Apes is the first book in the famed series by Edgar Rice Burroughs. This is the first time I have tried the series; I had previously enjoyed his John Carter of Mars books (at least twice). I felt it was time to finally give the Tarzan books a try. I'm glad I did.
I had preconceived notions about the series, didn't actually know that Jane was American for one thing. The story starts as the movies and TV series have also generally done, with Tarzan's parents, Lord Greystoke and his wife Lady Alice, abandoned on the coast of wild Africa by mutineers who have taken over their ship. Young Tarzan is born and when he is but a babe, his parents are killed by giant apes. Tarzan is saved by a she-ape, Kala, who had recently lost her own baby. She leaves the body of her dead child in the crib that had previously been occupied by Tarzan.
The story follows the childhood and adulthood of Tarzan, his life amongst the apes, his battle with the tribe's leader, his encounters with a tribe of African warriors. Burroughs presents this story in an interesting and oddly believable fashion. I especially found it interesting how Tarzan teaches himself to read, from books left his parent's had brought with them on their journey to Africa.
Finally, Tarzan meets Jane Porter, a relative in Lord Greystoke, and Jane's father, Professor Porter, when they find themselves in similar straits to Tarzan's parents, they also have been abandoned on the coast by mutinous sailors. Burroughs also presents these first encounters in a very interesting fashion, with Tarzan saving their lives from wild animals and natives and his growing love for the beautiful Jane.
I found the ending most interesting as we find Tarzan following Jane to the US to plea for her hand, something I hadn't realised. Of course I won't tell you how it ends, but you do know that there are 25+ books in this series so much is left to be resolved. I wasn't sure I would be interested in this series but I was pleasantly surprised and I look forward to starting book 2, The Return of Tarzan. (3.5 stars)"
2.
The Happy Return
by
C.S. Forester
.
"Chronologically, The Happy Return is the sixth book of the adventures of Horatio Hornblower by C.S. Forester. It was the first book of Hornblower adventures written by Forester, published in 1937. It's the eighth book I've read so far, so as you can see, I've not been following either sequence. LOL
With all that preamble, The Happy Return, like most of the Hornblower stories, was an excellent adventure. In this story, we find Horatio in a new location, in the Pacific, off the coast of Nicaragua. His secret mission is to provide arms and assistance to a colonial revolutionary, El Supremo, in his battle against the Spanish colonisers. It turns out that El Supremo is quite mad. Hornblower captures a Spanish two-decker and is ordered to turn it over to El Supremo and his crew. Hornblower then escorts El Supremo's army to Managua, or nearby, and then continues to Panama.
His orders are there changed as England and Spain are now allies in the war against Napoleon. Hornblower with a passenger on board, Lady Barbara Wellesley, must now go and try to keep El Natividad, the Spanish ship from capturing Spanish cargo ships headed to Panama. The battle with El Natividad is a fascinating story in its own right and so well described.
All in all it's a great adventure tale. You still have to deal with Hornblower's many moods; especially his self-criticism. This is compounded with the presence of Lady Barbara. However, his crew loves Hornblower, for his tactical flair and his sailing skills and his fairness (for the most part) to them. You take the good with the bad in a Hornblower tale. Well worth reading if you want to get a feel for the time period and also like a rollicking good adventure. (4 stars)"
3.
Dagwood and Blondie's Secret Service
by
Chip Young
.
"The Blondie comic strip created by Chic Young was one I remember reading in the paper as a youngster. It was also turned into comic books, TV series and even movies. I found two novelisations of Blondie stories in a collectibles / antique shop quite a few years ago and thought they looked interesting. Blondie and Dagwood's Secret Service is an interesting story, no classic by any means but a window into the Dagwood comics.
The story was published originally 1942 and is set during WWII, with the bombing of Pearl Harbor by the Japanese. Dagwood is taking aviation lessons from a Filipino instructor, as he feels he may need to offer his services to his country if it ever joins the war. He is suspicious of the instructor as he thinks he may, in fact, be a Japanese spy. Thus begins a spy caper with all the trademarks of a Blondie comic strip. We get Dagwood's famous sandwiches, Blondie's common sense vs. Dagwood's less than common sense. We get their kids Alexander and Cookie, Daisy the dog and her five pups and we get lots of action.
I was a bit surprised at the story. I mean it was humorous, but it also touched on the themes to be vigilant against spies, not to sit on your hands and pretend nothing is happening. There are twists and turns, moral concepts about not trusting someone just because they look different, etc. Ultimately, it was a fun, light read, but also kind of neat. (3 stars)"
Currently Reading
I've since started the following books -
1.
Patient Zero
by
Jonathan Maberry
, the first book in the Joe Ledger horror / thriller series.
2.
Nicholas Nickleby
by
Charles Dickens
, and
3.
The Island of Sheep
by
John Buchan
, the 5th novel in the Richard Hannay thriller series.
The Missus's Pop Culture Challenge
Taking a Look at Days 16 - 18 today.
Day 16 - The Worst Movie You've Ever Seen
.
I chose The Mirror Crack'd, starring Elizabeth Taylor and Kim Novak, the only movie I've ever fallen asleep at. Jo chose John Q, starring the great Denzel. I have to agree. Great cast, awful movie. Other selections included Suicide Squad, Mulholland Drive, Snakes on a Plane, etc.
Day 17. Who is your favourite ever Disc Jockey
. I was going to choose myself, from my days at CHCL 1450 on your AM dial, but modesty precluded me from doing so. Instead I picked Sara Cox from BBC Radio 2. Jo chose Chris Tarrant from Capitol Radio and her sister, Sue, chose Tony Blackburn who hosted Pick of the Pops.
Day 18 - First film you remember seeing at the pictures
. I had difficulty with this one as my memory isn't always that great. I'm sure I saw other movies before this one, but I seem to remember one of the earliest was The Mysterians, a Japanese SciFi movie. Jo chose The Aristocrats. Her sister Sue chose The Sound of Music. Other choices included Snow White and the Seven Dwarves, Chitty Chitty Bang Bang, etc.
Great Historical Events
Finishing off 1781 today.
"Aug. 14. - American and French allied armies march from the Hudson, near New York, to Virginia. Cornwallis hemmed in at Yorktown.
Sept. 6. - Burning of New London by Benedict Arnold.
Massacre at Fort Griswold, Conn.
Sept. 8. - Battle of Eutaw Springs; a splendid victory under General Greene.
Oct. 6. - Bombardment of Yorktown.
Oct. 19. - Surrender of Cornwallis at Yorktown. Gen. Lincoln appointed by Washington to receive his sword.
Oct. 24. - Indian battle at Johnstown.
National thanksgiving proclaimed."
Next entry I'll move along to 1782 and steamships.. :)
Science of Common Things
The excerpt from Prof. L.G. Gorton's learned writings today covers such subjects as hail and sleet.
"
What is the cause of hail?
If the rain-drops in falling pass through a current of air of low temperature the drops become frozen and falls as hail.
What is sleet?
If snow, in falling, passes through a warm current of air, it is partially melted and becomes sleet."
Next entry I'll cover sunlight and such.
The Birth Date Thing 10 November 2003
(I've noticed that from now on the US #1 and British #1's are diverging; the US more rap/ R&B, with the British more Boy and Girl groups and X-Factor winners.) Interesting.
US Billboard #1 Single 10 November 2003
Baby Boy
by
Beyoncé
. Beyoncé was born and raised in Houston, Texas in 1981. (Sigh, I also notice that many of the artists featured in this birth date thing are getting younger than me.) She made her name as one of the members of Destiny's Child and then great success as a solo artist. Baby Boy was her second #1 from her album Dangerously in Love. Sean Paul, featured in the song, also was one of the writers.
UK #1 Single 10 November 2003
Be Faithful
by
Fatman Scoop
. Fatman Scoop is an American hype man and hip hop promoter. Be Faithful was his only successful song and it was only really successful in the UK.
New York Times #1 Fiction Best Seller 10 November 2003
The Five People You Meet in Heaven
by
Mitch Albom
. American writer, journalist, radio and TV broadcaster, etc, Albom is known for his inspirational stories, well, not by me particularly, but acquaintances in Goodreads have chosen some of his books for those that have had an effect on them.
The Five People You Meet in Heaven was his second novel. "It follows the life and death of a maintenance man named Eddie. In a heroic attempt to save a little girl from being killed by an amusement park ride that is about to fall, Eddie is killed and sent to heaven, where he encounters five people who had a significant impact upon him while he was alive."
Pulitzer Prize Winner 2003
Middlesex
by
Jeffrey Eugenides
. Eugenides is an American writer, also known for The Virgin Suicides and The Marriage Plot. Middlesex was his second novel. Its characters and events are loosely based on aspects of Eugenides' life and observations of his Greek heritage.
Nobel Prize Laureate 2003
J.M. Coetzee
(South Africa). I have highlighted two of Coetzee's works under the Man Booker Prize heading. He was awarded the Nobel Prize as a writer who "in innumerable guises portrays the surprising involvement of the outsider".
Hugo Award Winner 2003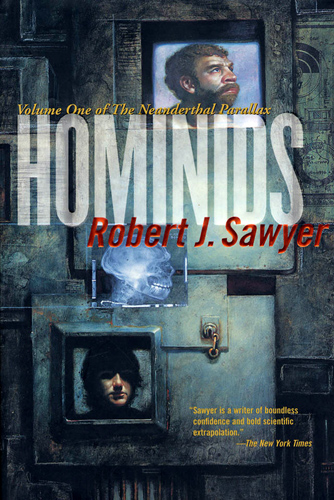 Hominids
by
Robert J. Sawyer
. Hominids is the first book in a trilogy by Canadian writer, Robert J. Sawyer. The series, The Neanderthal Parallax, also features Humans and Hybrids.
"It depicts the effects of the opening of a connection between two versions of Earth in different parallel universes: the world familiar to the reader, and another where Neanderthals became the dominant intelligent hominid. The societal, spiritual and technological differences between the two worlds form the focus of the story."
Edgar Award Winner 2003
Winter and Night
by
S.J. Rozan
. Winter and Night is the 8th book in New Yorker, S.J. Rozan's Smith and Chin's detective series.
"
In the middle of the night, private investigator Bill Smith is awakened by a call from the NYPD. They're holding a 15-year-old kid named Gary—a kid Bill knows.
But before Bill can find out what is going on, Gary escapes Bill's custody into the dark night and unfamiliar streets. Bill, with the help of his partner Lydia Chin, tries to find the missing teen and uncover what it is that led him so far from home.
Tracking Gary's family to a small town in New Jersey, Bill finds himself in a town where nothing matters but high school football, where the secrets of the past—both the town's and Bill's own—threaten to destroy the present. And if Bill is to have any chance of saving Gary and preventing a tragedy, he has to both unravel a long buried crime and confront the darkness of his own past."
Man Booker Prize Winner 2003
Vernon God Little by DBC Pierre. Vernon God Little is the first novel by Australian writer, DBC Pierre.
"It's a darkly comedic portrait of Martirio, Texas, a town reeling in the aftermath of a horrific school shooting. Fifteen-year-old Vernon Little narrates the first-person story with a cynical twang and a four-letter barb for each of his diet-obsessed townsfolk. His mother, endlessly awaiting the delivery of a new refrigerator, seems to exist only to twist an emotional knife in his back; her friend, Palmyra, structures her life around the next meal at the Bar-B-Chew Barn; officer Vaine Gurie has Vernon convicted of the crime before she's begun the investigation; reporter Eulalio Ledesma hovers between a comforting father-figure and a sadistic Bond villain; and Jesus, his best friend in the world, is dead--a victim of the killings. As his life explodes before him, Vernon flees his home in pursuit of a tropical fantasy: a cabin on a beach in Mexico he once saw in the movie
Against All Odds
. But the police--and TV crews--are in hot pursuit."
Giller Prize Winner 2003
The In-Between World of Vikram Lall
by
M.G. Vassanji
. And Strike 3, you're out. I've not heard of any of the books in today's entries. Even the songs, for the most part were unfamiliar. M.G. Vassanji was born in Kenya, raised in Tanzania and came to Canada in 1978.
"
Vikram Lall comes of age in 1950s Kenya, at the same time that the colony is struggling towards independence. Against the unsettling backdrop of Mau Mau violence, Vic and his sister Deepa, the grandchildren of an Indian railroad worker, search for their place in a world sharply divided between Kenyans and the British. We follow Vic from a changing Africa in the fifties, to the hope of the sixties, and through the corruption and fear of the seventies and eighties."
So there you go, a bit of catching up. Have a great week!