Well, here we go, into the first month of the last half of 2016. Summer has definitely arrived, although as I say this, today has started off nice and cool and a bit cloudy. No complaints from me for that as it makes sleeping much more comfortable. Yesterday the missus and I visited the Arts & Crafts festival being held down at the Comox Marina. It's our August long weekend, for us BC residents, the BC Days long weekend. There was a fair bit going on in the valley; besides the festival down at the harbour front, the Filberg Festival was also taking place. We've been a couple of times in the past few years, but the exhibits down at the waterfront are free of charge, a definite selling point. Some very talented crafts-people on display there. We managed to find a few items that we really liked and purchased.
So, now onto my July reading summary. Overall, I had another successful month, with a number of very enjoyable reading selections. Quite a few of my books were under 250 pages, but they were all excellent. So without further ado, here is my summary.
My July 2016 summary
-
Books read
: Jul - 13 Total - 87 out of my Goodreads estimate of 100
Pages read
: Jul - 3,600 Total - 26,100
Page breakdown
:
> 250 Jul: 7 Total: 37
250 - 350 Jul: 3 Total: 24
351 - 450 Jul: 2 Total: 12
> 450 Jul: 1 Total: 14
Author Gender:
Male: Jul: 12 Total: 60
Female: Jul: 1 Total: 27
Ratings:
5-star Jul: 1 Total: 12
4-star Jul: 8 Total: 45
3-star Jul: 4 Total: 30
Genres:
Fiction Jul: 3 Total: 12
Mystery Jul: 7 Total: 44
SciFi Jul: 2 Total: 17
Non Fic Jul: 1 Total: 7
Humour Jul: 0 Total: 3
Classics Jul: 0 Total: 4
Challenges
Reading Group 12 + 0 (My continuing Canadian Lit Challenge)
In July, I read 3 more books for this challenge, bringing my total to 6 of my planned reading of 12 books. I completed the following books -
-
Seaweed on the Street
by Stanley Evans (4 stars). This was a new author for me and an excellent start to a new mystery series.
-
City of Ice
by John Farrow (3 stars) - Another new series for me, set in Montreal. I liked it as well, even though I probably preferred the Seaweed book.
-
Player One: What Is to Become
of Us by Douglas Coupland (4 stars). More on this book further along as it was one of my Top Three choices this past month.
I'm currently reading
Solomon Gursky Was Here
by Mordecai Richler, an author I haven't read for many years. I'm enjoying very much so far.
Decades challenge
In July, I read 3 books in this challenge, for a total, so far of 6 of 12. The books read were;
- 1920 - 29;
Ashenden: Or the British Agent
by W. Somerset Maugham (4 stars). This was an excellent Spy novel
- 1930 - 39;
The General
by C.S. Forester (4 stars). An interesting take on World War I.
- 2010 - Present;
Helsinki Noir
by James Thompson (3 stars). A collection of short story mysteries by Finnish authors.
Currently, I'm reading a book to fill my 2000 - 2009 decade,
The Coffee Trader
by David Liss, a story of intrigue and danger set during 1659, in Amsterdam.
SciFi/ Fantasy/ Horror
I read 1 book in this category, bringing my total to 11 of 15. (I may increase the total again, depending how I progress for the rest of the year)
The Scorpio Races
by Maggie Stiefvater (5 stars). I'll review this later as it was one of my Top Three for July.
Currently, in this genre, I'm reading the 2nd book in The Strain series by Guillermo del Toro and Chuck Hogan.
The Fall
is the 2nd book and it's very enjoyable and readable. A nice twist on the vampire mythology.
Classics
In July, I didn't read any books in this challenge. My total remains 4 of an attempted 6. I have started another book, however, that being
Jane Eyre
by Charlotte Bronte. I am enjoying it very much so far, being about 1/2 way through it.
Ongoing Series
I finished 5 books in July towards this challenge, bringing my total to 27. I haven't set a maximum total in this challenge, as I have so many new and ongoing series on my book shelves. In July, I finished the following books:
-
Dance Hall of the Dead
by Tony Hillerman (4 stars). This is the second book in the Joe Leaphorn series. More below.
-
Sidney Chambers and the Shadow of Death
by James Runcie (4 stars). This is the first book in the Sidney Chambers mystery series. You can also watch the TV version on PBS Masterpiece. They have had 2 seasons thus far.
-
Officers And Gentlemen
by Evelyn Waugh (3 stars). This is the 2nd book in the satirical Guy Crouchback series. It is a series set during World War II. Quite good. The last book is
Unconditional Surrender
.
-
Maigret and the Enigmatic Lett
by Georges Simenon (4 stars). This is the introduction to the Inspector Maigret mystery series, originally published in 1931.
-
The Mystery of Dr. Fu-Manchu
by Sax Rohmer (3 stars). This is the first book in the Dr. Fu-Manchu series of thrillers, originally written in 1913 and it was an entertaining, thrilling introduction to this collection. I have 3 others on my book shelf awaiting my attention.
I am not currently reading any books in this challenge, but will get back to it in August.
Non-Fiction
I read one book in this challenge in July, bringing my total to 5 of 6;
-
Getting to Know the General: The Story of an Involvement
by Graham Greene (4 stars). This was an interesting story of Greene's connection with the leader of Panama, a bit of history about which I knew very little. I've been enjoying very much my recent exploration of Greene's books, both fiction and non-fiction. I have a number of his books still sitting on my bookshelves. Maybe next year I will focus on his work for my 12 + 4 challenge.
Top 3 Books
I've alluded to them above. The next three selections were my Top 3 books in July; one mystery, one Canadian Literature/ Dystopic Fiction and one Young Adult Fantasy.
3.
Dance Hall of the
Dead by Tony Hillerman (4 stars)
"I'm so very glad that I was introduced to the Joe Leaphorn series. Dance Hall of the Dead by Tony Hillerman is book 2 in the series and is a joy to read. It's a bit like the Longmire series, but instead told from the perspective of the Native police inspector, rather than the local police chief.
I like how the story was paced, I like Joe Leaphorn very much, he's calm, quiet and thoughtful. I really enjoy the information about the various Native cultures, in this book, the Zuni and Leaphorn's Navajo, etc. I hope as I get more into this series that more and more information is provided.
This story involves the murder of a Zuni boy and the follow-on murder of a Navajo man. It follows the build-up to the annual Zuni festival, to welcome the Shalako season and concerns the desire of a Navajo boy to be introduced to the Zuni tribe and rites. There is so much to like about this mystery; it's difficult to put the book down once you've begun. I'm so looking forward to trying the next book, Listening Woman."
2.
Player One: What Is to Become of Us
by Douglas Coupland (4 stars)
"The synopsis of this book compares the style to Kurt Vonnegut and J.G. Ballard. I can see that somewhat, especially JG Ballard, as the situation develops. However, I find the characters more sympathetic and easy to relate to than those in the Ballard books I've read up to now. I also can compare the story and feeling somewhat to Emily St Mandel's Station Eleven, without the scope of her story.
In Player One, you have basically 4 people, Rick, Karen, Rachel and Luke and also the narrator, the computer game voice of Player One, all trapped in an airport cocktail lounge by a world-wide crisis. This crisis concerns the sudden drastic increase in the price of oil and a series of explosions, etc. The four are in the cocktail lounge for various reasons; Rick, as the bartender, Karen, just having flown in to meet an internet companion to see if they can strike up a relationship, Rachel, trying to meet a man to make her feel human and Luke, a parish priest on the run. Player One is the unseen voice, elaborating on the events of the previous hour and expounding on what will happen in the next.
The story is set over 5 hours and in each hour, the four humans and Player One tell what they are thinking and what is occurring. It's an interesting concept and each person is well-crafted for such a short timeframe and the story is engrossing and draws you in. I could easily have given this a 5-star rating, but I think a solid 4 is fair. I enjoyed this story very much and found myself being drawn back to it to see how it would all resolve. Excellent and surprisingly good."
1.
The Scorpio Races
by Maggie Stiefvater (5 stars)
"This was such an excellent story; extremely well-written, a page turner, thoughtful and even emotional. It's a YA fantasy, so I was thinking it was more of The Hunger Games, but it was quite different in some ways.
Each year on Thisby, an island off America, the Scorpio Races take place. The difference between a normal horse race and the Scorpio races is that the horses used come from the sea, and they are meat eaters. They wash ashore during storms and some are captured and kept on land. In November, the races take place. People and horses will die.
Sean Kendricks, a young man who works for the wealthiest landowner on the island, has won 4 of the last 6 races, on a horse named Corr. He competes with the landowner's son and others; there is ill-feeling between him and Mutt Malvern, partly because Mutt's father seems to prefer Sean. Kate (Puck) Connolly needs to enter this year's race, to try and keep her family together and to keep her family home. However, there has never been a girl in the Scorpio Races before and Kate will be riding her land horse, Dove, not a water horse.
This is the premise of this fantastic story. The book is peopled with wonderful characters, Kate and her brothers, Sean, George Holly (the horse trader from the mainland), Peg Gratton, Dory Maud and her sisters, and the story draws you in more and more until you can't put the book down. I want to go the bakery on the island and have November Cakes, they sound delicious. Excellent book and I have to give it 5 stars."
In the Mill
(maybe)
-
How Like an Angel
by Margaret Millar. I think this will be the next book in my 12 + 0 challenge. I have enjoyed her mysteries very much so far. Below is the synopsis.
"
Private detective Joe Quinn gambles. That's how he's lost his job, car, clothes, and girlfriend; it's why he's hitchhiking from Reno to California. At The Tower, a back-country compound housing a religious cult, Quinn gambles again, when Sister Blessing asks him to locate one Patrick O'Gorman. It proves to be no easy task: O'Gorman's dead - and, Quinn wagers, not so accidentally as everyone insists."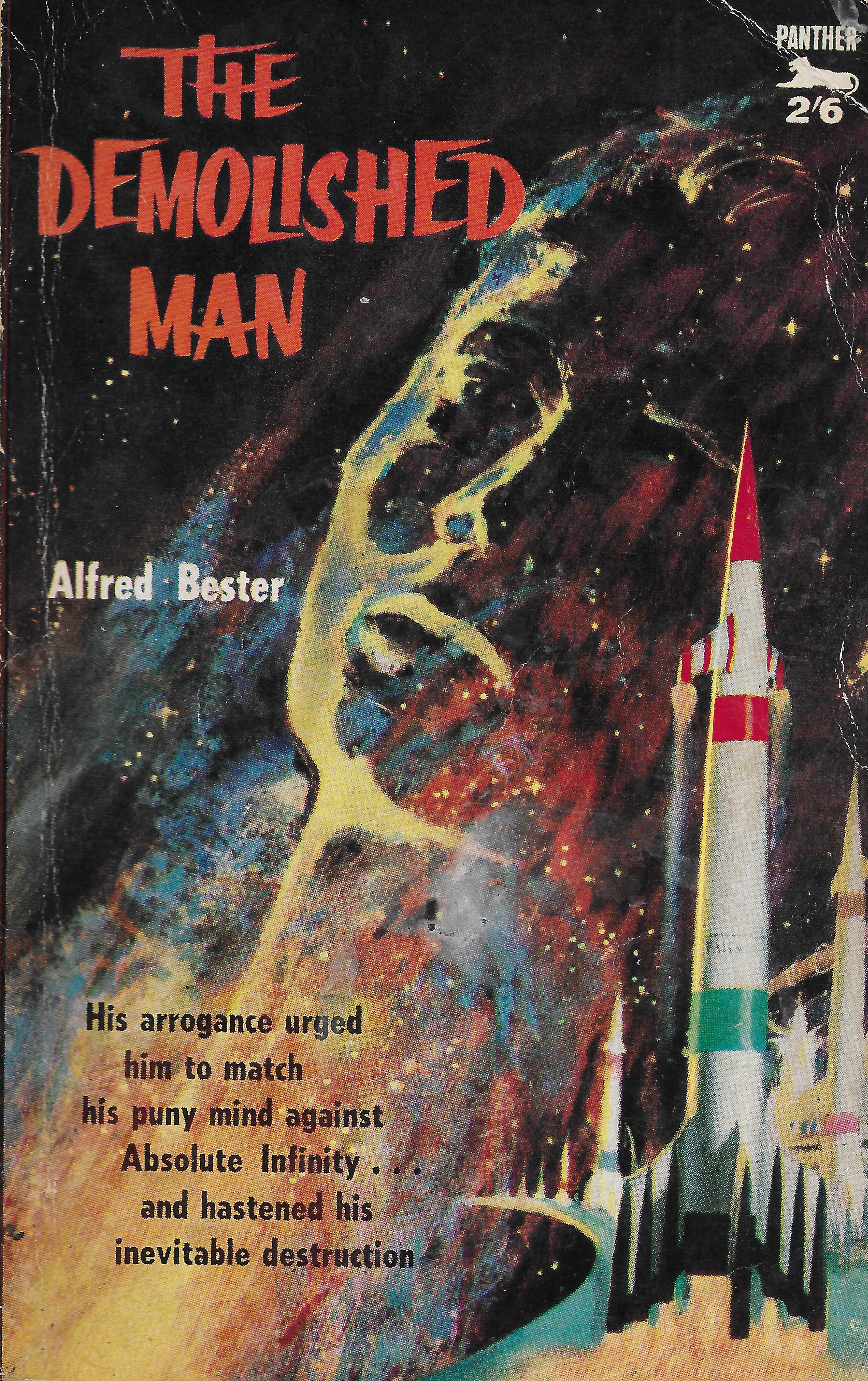 -
The Demolished Man
by Alfred Bester. This will be fit into my Science Fiction challenge and also work in another group challenge, Award winners. The Demolished Man was the Hugo Prize winner for its year. Below is the synopsis.
"
In the year 2301, the wealthiest man in the universe is determined to commit murder in a world in which telepaths are used to detect possible crimes before they can happen.
"
So there you go, my July reading summary. Any reading ideas for you there?