Back in my university years, 1974 - 78, after I decided in 2nd year that Political Science and History really weren't the courses on which I wanted to focus, I had to find another route to finish off my next two years. I chose English and pretty well for the next two year took nothing but English courses. You can throw a Film course into the mix, but I think I pretty well took nothing else my last two years.
Some worked; the Canadian Literature course, the Science Fiction novel course, but some didn't as well; the Classics (I mean really, did I actually want to read all of Ulysses) or the Short Story, as examples. I don't know what it was about the Short story that I didn't really enjoy, maybe it was the stories we took or that it seemed to focus on how to write a short story. Something anyway, because I can't really remember that much about the course, or what we even read. I have a feeling there might have been some Mark Twain and others of his ilk. Needless to say, I didn't often search out collections of short stories to fill my time.
What was it that turned me off? It might have been that you can't really get great character and plot development into such a short time frame. The writer has to be very successful, in a short time, in grabbing your attention, making his/ her point and then summing up satisfactorily. I tended toward stories that developed slowly and gradually reached its climax so that I had time to savour the characters and story. Books by Leon Uris were definite favourites of mine; Exodus, Mila 18, Battle Cry, etc. Each character was introduced, his life story developed and then slipped into the plot. Great stuff.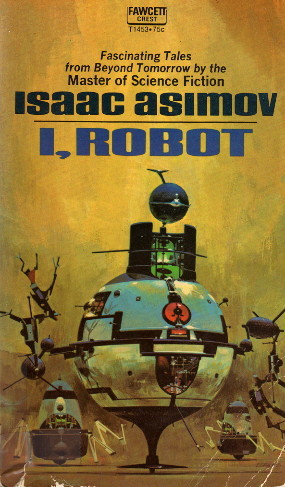 There were some short story collections that I did enjoy back then of course. A.A. Milne's
House at Pooh Corner
and
The House at Pooh Corner
, even though children's stories, were favourites of mine, and I didn't read until university. Isaac Asimov's
I, Robot
was another excellent collection. I contained 9 short stories, expounding on Asimov's laws of robotics. The stories were both science fiction and mysteries in their own right and featured robots in precarious situations where they had to act and still follow the basic laws. It turned me onto the Robot novels, an excellent series.
Since I've joined Goodreads, my taste in reading has become much more varied. One of my groups, the UK Book Club, features a different genre each month and at least twice over the past years, one of the genres has been the Short Story. So I've begun to experiment more and more with this particular style of writing. This year, as I began to sort out my various challenges, I noticed that I have begun to acquire more and more short story collections. So from January 1st, I've made a conscious decision to have one collection on the go, along with my other choices.
For the most part, I've enjoyed every collection, but there have been some misses as well. My two least favourite have been collections by Science Fiction writers who I've enjoyed very much when I read their novels. William Gibson and Iain M. Banks are excellent and innovative SciFi writers, but while I didn't mind
The State of the Art
by Banks, as it did help to explain more about the Culture world that he has created, I just didn't get
Burning Chrome
by Gibson. I did want to like it and there were some stories I didn't mind, such as Red Star and Winter Orbit, I did find it a chore to get through.
There have been others I've tried over the past few years that have got me back into short stories. While they haven't necessarily been four or five star selections, I've still enjoyed. They do also span varied genres which is a good thing as it encourages me to continue finding other books in those genres. Canadian writer Alice Munro is a case in point. While at university, one of the books we had to read as part of my Canadian fiction course was her collection,
Lives of Girls and Women
. Munro is the mistress of the short story. In 2007, my wife Jo, got me The View from Castle Rock for Xmas. It contained a very personal journey for Munro, stories based on her family back in Scotland and their move to Canada as settlers. It was an excellent series of stories.
I've been slowly collecting novels and short story collections by Horror writer, H.P. Lovecraft since 2013; they can be difficult to find. I have sometimes found his style somewhat cumbersome to read, but he was a writer who influenced so many horror writers that it was well worthwhile to try his collections. I finished
The Tomb and Other Tales
in October 2014. This was my review of the collection.
"This book contains a series of short stories by HP Lovecraft. I can't say that they were fantastic but it was interesting to read more of Lovecraft's work. The book is broken down into some of his classics, some of his work that he wrote as a late teen to his 20's and then some fragments of dreams he had that were never ultimately turned into stories. He does have a pretty basic theme, that being stories of creatures/ beings that come from some primordial past and infect or debase the minds of people who choose to explore the Satanic or even older beings and religions. Lovecraft never seems to go into great detail about these beings/ creatures, rather he leaves it for the reader to come up with his own images. The characters in the stories often start off by saying something like fearing to go into detail as what they have witnessed is too horrible to describe. There are a couple of different stories in the midst, one involving Harry Houdini in Egypt, which I found quite interesting and one involving an incident on the planet Venus which was nicely different. All in all, I think it's worth trying to find and read Lovecraft's work. This is the third book of his stories, two of short stories and one novel that I've read and his style and story - telling are quite unique. 3.5 stars."
Just this morning, I completed a collection of short stories by Dorothy L. Sayers, the creator of English dandy and sleuth, Lord Peter Wimsey.
Lord Peter Views the Body
was an excellent collection. It provided more information about Lord Peter and his feelings on crime and his attitude towards friends and how important they might be. The stories can be humorous, but they aren't necessarily cozy mysteries.
"This book contains 12 mysteries featuring Dorothy Sayers' famous sleuth, Lord Peter Wimsey and each was unique in its own right and all were interesting and entertaining. I've grown to like Lord Peter very much as I've begun to explore this series. Short stories can be so hit or miss. It all depends on how quickly the author can get into the story and grab your attention and then come to a satisfying resolution. Dorothy Sayers succeeded with this much to my satisfaction. Lord Peter is such a wonderful character and the stories helped develop his character even more. He loves a mystery, loves to snoop and explore diverse situations, and is intelligent at coming up with logical solutions. I loved each story and was very surprised by the last one, The Adventurous Exploit of the Cave of Ali Baba as it was quite different from all of the others. Excellent, entertaining read. (4 stars)"
One of my favourite Science Fiction writers over the past few years has been Canadian, Phyllis Gotlieb. Her novels have been unique and so very interesting. A group of characters she has featured more than once are the giant red cats from the planet Ungruwarkh. I've read two collections of short stories featuring the cats and
A Judgment of Dragons
was the best.
Son of the Morning and Other Stories
is also worth reading.
"Canadian writer/ poet, Phyllis Gotlieb has written some of my favourite SciFi stories, especially Sunburst. A Judgment of Dragons contains four short stories featuring the giant red cats from the planet Ungruwarkh, the male, Kreng and his telepathic mate, Prandra. Unfortunately, the first story, Son of Morning, was also contained in another book of short stories I'd already read, Son of Morning and Other Stories, but it was still nice to be reintroduced to Prandra and Kreng with that story and then to continue with three other stories featuring the irrepressible pair; The King's Dogs, Nebuchadnezzar and A Judgment of Dragons. The four stories could just as easily have been one novel as the stories follow on one after the other as the two cats go to Gal Three (AKA Earth) so Prandra can learn to use her esp powers better and they can obtain assistance from the Federation in helping the planet Ungruwarkh become more self sufficient. Prandra and Kreng are wonderful characters, grumpy, loving and just fun to read about. Each story is almost a mystery, as the two find themselves in situations that need resolution. The supporting cast; Espinoza, an esp brain who accompanies the in the first story, Kinnear, a blunt security official in the 2nd and 4th stories and others, are all excellent as well. The stories were very enjoyable and just added to my love of Gotlieb's writing."
I won't discuss every collection I've read, but in case you are interested in exploring some others, other 4 star reads have been:
a. Roald Dahl -
Tales of the Unexpected
(Horror)
b. HP Lovecraft -
The Lurking Fear and Other Stories
(Horror)
c. John Wyndham -
The Seeds of Time
(Science Fiction)
d. Joyce Carol Oates -
The Museum of Doctor Moses
(Suspense / Mystery)
e. J.G. Ballard -
Passport to Eternity
(Science Fiction)
There have been 3 5-star reads this past year and I will provide my reviews of them for you.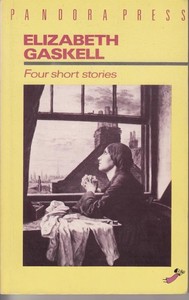 1. Elizabeth Gaskell -
Four Short Stories
(Classic)
"This collection of short stories contains 4 stories by writer, Elizabeth Gaskell; The Three Eras of Libbie Marsh (1847), Lizzie Leigh (1855), The Well of Pen-Morfa (1850) and The Manchester Marriage (1858). From the introduction by Anna Walters, they were unique not only because they were written by a woman but also for the subject matter. Popular at that time were stories of the upper classes, where women chiefly looked to be married to fulfil their lives. Gaskell's stories featured women as the protagonists, women who were of the lower classes, who had to struggle to live, single mothers, seamstresses, prostitutes. The stories are hard looks at life, but at the same time, feature tenderness, love and even optimism. I loved how she crafted these tales, well-written, well-described and thoughtful. They were very much a pleasure to read as Gaskell creates such excellent pictures and characters and stories. This was my first experience with Gaskell's writing and I'm very happy that I was able to experience her talent."
2. HP Lovecraft -
Necronomicon
(Horror)
"An excellent collection of the stories of H.P. Lovecraft, from Dagon, originally published in 1919 to The Dream Quest of Unknown Kadath, 1943. There are themes throughout, the Old Ones, the area of Arkham, Mass, the Miskatonic University, the Cthulu, etc. The stories are creepy, more so than outright terrifying, but still, leave you feeling nervous and chilled. Some are excellent; the Moutains of Madness, The Dunwich Horror, the Haunter of the Dark, the Thing on the Doorstep. Excellent to be provided the opportunity to explore Lovecraft's worlds and stories under one book."
3. H.H. Munro -
The Best of Saki
(Fiction/ Humour)
"I heard about Saki (AKA H.H. Munro), a British short story writer from the early 1900's only by chance. I found this book while wandering through a used book store in Kingston, Ontario and bought it partly because I liked the binding. Now that I've read the collection of short stories, I can honestly say how glad that I was to have taken the chance on this book. Saki's stories are funny, witty, sharp and to the point. Each story runs from 3 to 6 pages and each is concise and exact and so well-written. The foreword mentions that writers such as PG Wodehouse, of the Wooster and Jeeves stories, were influenced by Saki's works. I can see the similarities in humour, although Saki is more biting. I was not bored by any of the stories, and there are many in the collection, some made me laugh out loud, some chuckle and many had me thinking about the mind that created them. I don't know if you'll find a similar collection anywhere else. It was an excellent, most enjoyable read."
That's where I am at the moment. I still have a few others to get through this year. I'm looking forward to it. My next book is
The Blue Lenses and Other Stories
by Daphne du Maurier. I have read some of her novels,
The House on the Strand
and
Rebecca
(2 of my favourite novels) so I'm looking forward to attempting her short stories.
Below are some of the other books I hope to get to in 2016:
1. Margery Allingham -
Mr. Campion; Criminologist
(Mystery)
2. Alfred Bester -
Dark Side of the Earth
(Science Fiction)
3. Gene Wolfe -
Storeys from the Old Hotel
(Science Fiction)
4. P.G. Wodehouse -
The Man with Two Left Feet and Other Stories
(Humour)
5. Michael Gilbert -
Petrella at Q
(Mystery)
6. Ian Fleming -
For Your Eyes Only
(Spy)
7. Theodore Sturgeon -
A Touch of Strange
(Science Fiction)
8. Edmund Cooper -
News from Elsewhere
(Science Fiction)
9. Rex Stout -
Death Times Three
(Mystery)
10. Agatha Christie -
The Adventure of the Christmas Pudding and Other Entrées
(Mystery)
11. Margery Allingham -
The Allingham Minibus
(Mystery)
12. Various -
Helsinki Noir
(Mystery)
So there you go. I hope you try some of them out.