Another month has passed us by and as I sit here in the study, it's a coolish day but the sun is shining and our plum tree has blossoms on it already. One of these days I will get out there and rake the pine needles off the yard and let the grass start up again. Tonight we take the schnauzers to their obedience class, lots of fun that. They do seem to be learning little things. Any improvement will be a plus.
So let's take a look back at February. It was a relatively good month for reading. I read one more book than in January, although one of them was a carry over from January. Still, a pretty good month. Overall I've completed 15 books in 2015, almost on track for my Goodreads challenge total of 95 books.
Time for my stats
-
January
- 7 books, 2431 pages
February
- 8 books, 2676 pages
Total
- 15 books, 5107 pages
Sex of Author
-
Female
- 2
Male
- 6
Ratings
-
5 star - 2
4 star - 6
Genres
-
Mystery - 4
Fantasy - 1
Classic - 1
SciFi - 1
Reviews
-
1.
Crash
by
J.G. Ballard
- (SciFi /4 stars) A very strange, but at the same time, compelling/ engrossing story. The basic premise being a group of people who have been involved in car accidents that now equate car accidents with sex. It does sound strange doesn't it. The story focuses on the author, who is in effect, JG Ballard, his wife and a man he meets after his car accident, that being Vaughn. There are also other characters but these three are the main focus. The story starts at the end then with flashback works it's way from the beginning; Ballard's car accident, through a variety of incidents until the start of the story (in effect, the end). There is a lot of sex in this story, it's been described in some reviews as pornographic) and interesting discussion/ comparison with the human body and that of an automobile. The people involved have issues, sex is often only satisfying in automobiles, even in broken automobiles. It's a hard story to describe, but it's so 'out there' that it can draw you in very deeply. David Cronenberg made a movie in 1996 based on this book, starring Holly Hunter, James Spader and Elias Koteas, amongst others and as I recall it, he very successfully captured the mood and strangeness of the story. It can be a graphic story to read, but I found it also very interesting. Did I like it? Like isn't the right word, but I found it hard to put down.
2.
Zoo Station
by
David Downing
- (Spy/ Mystery 5 stars) I was very pleasantly surprised by this mystery/ thriller. I rarely give 5 - star ratings to mystery/ thrillers, but this was an such an engrossing story. It's my first book by David Downing, the first in his John Russell series. Russell is a British reporter living in Berlin just before WWII as the Nazis are consolidating power in the country and beginning to make waves in the world. He's a bit of a cynic, reporting on small items, making ends meet, living with his girl friend, German actress, Effi and spending time with his German son, Paul on weekends. While in Danzig gathering information for a news article, he meets a Russian spy who offers to pay him well to write a series of stories on Germany, a comparison between Communism and Socialism (and maybe also provide the Soviets with information useful to them). Russell is also given a job teaching a Jewish family English, a family who are trying to gain exit visas from Germany (as are countless other Jews at that time). Russell finds himself becoming more and more involved in issues, trying to help the Jewish family, trying to avoid the Gestapo, and so on. It's a very well-written story and the development of Russell's character is carefully and well-crafted. I liked many of the characters; I think I've got a bit of a crush on Effi. The story builds tension excellently, the story keeps you deeply engrossed. All in all, I'm glad I discovered this and look forward to continuing to see how Russell manages to survive in Nazi Germany as war becomes more and more of a given and also to see what other situations he will find himself in. Excellent!!
3.
The Moonstone
by
Wilkie Collins
- (Classic/ Mystery 4 stars) This was a bit of a slow read for me at times, but I did let myself get distracted with some of my other books. However, having said that, I enjoyed this book very much. I liked how Collins laid out the mystery; letting various characters provide their inputs to the events to help present the whole story. I enjoyed the characters; Betteridge the butler (the first narrator) and how he used the Robinson Crusoe story to provide him guidance on the goings on; Ezra Jennings, the Dr Candy's assistant and an outcast for his strange appearance, but at the same time, a gentle, caring soul, who comes up with a unique solution to working out the mystery; the Scotland Sgt Cuff, droll, caught up with roses, but a sharp mind. As the story progressed, I did have the workings of a solution, but still enjoyed following through with it. I liked Collins' style of writing, finding it very accessible. Was the story too long? I thought it might have been at the beginning, but I think originally it was presented as a serial to magazines, so for that reason, it makes sense. And anyway, as the story progressed, the tension and pace, quickened perceptibly. All in all, it was an excellent story and I'm glad that I've started reading some of these classics over the past few years. It's allowed me to discover the wonders of story - telling from the past century. Highly recommended. I will check out Collins' other stories, I think.
4.
The Merchant's House
by
Kate Ellis
- (Mystery / 4 stars) This is the first Wesley Peterson mystery. Sgt Peterson has moved to a small town in England after a start in London. A smaller force, a new start for his wife and Wesley, he arrives as the local force is investigating the disappearance of a small boy and has just started investigating the murder of a mysterious woman. Thrown into this mix, Peterson's wife, Pamela is struggling to sort out why she can't get pregnant, involving visits to a private clinic. Peterson is a likable character and the other main characters on the force, Rachel and Inspector Heffernan, make him welcome and are well-described. The investigations of the two mysteries meander nicely but steadily to an interesting conclusion. I enjoyed the investigation and the story. An archaeological mystery also takes place; a college friend of Peterson's is surveying an old building site, which turns up a dead body. Each chapter starts with an excerpt from the diary of the previous owner of the site. All in all, it's an interesting entertaining introduction to Wesley Peterson's mysteries.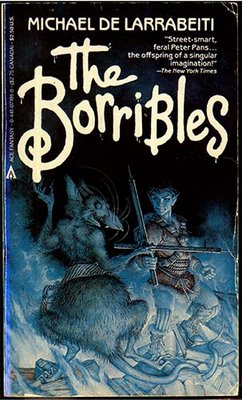 5.
The Borribles
by
Michael De Larrabeiti
- (Fantasy/ 4 stars) I read this book back in the mid-'80s and remember enjoying very much. I wanted to read again as I've ordered the third book in this series and wanted to refresh my memories. Basically an adventure where a group of Borribles (edgier Borrowers) are tasked to take a trip into Rumble (furry rat like creatures) territory to cause much havoc and prevent a Rumble invasion into Borrible territory. The story is set in London and an adventure like this will grant the tasked Borribles a name. The eight will be given the names of the eight Rumble leaders they kill in their adventure. On the way, they encounter plotting Borribles who want the treasure that will be acquired, Borrower kidnappers, who like to use Borribles for their dirty deeds and of course, the Rumble kingdom. A fast-paced adventure that is easy to read. It's not necessarily a child-friendly adventure, but good for teens and adults. The Borribles is an interesting adventure and worth giving a try. Not as good as my memories but still entertaining.
6.
The Eyre Affair
by
Jasper Fforde
- (Fantasy (mystery) / 5 stars) I don't normally like to give 5-star ratings but this book was just such a fun, entertaining read that I couldn't give myself a reason not to. I liked Thursday Next's character very much and the strange and wonderful persons who surrounded her made for a joyful ride, from her time travelling father who dropped in and out for little moments to Uncle Mycroft and Aunt Polly and even the only lightly introduced pet Dodo. There are so many characters and back stories that I want to find out more about that I'm really looking forward to finding the next episode in Thursday's adventures. What about this story? Well, basically Thursday Next is an SO-27 Literatec agent who works to find lost books, false books, etc. That's such a simplification in this fantastical world, where the Crimean conflict is still taking place, where the walls between reality and fiction are fragile and people can travel both ways, into and out of stories, but that's the gist of her job. She is seconded to a higher branch of Special Ops and finds herself arrayed against Acheron Hades, a mad, psychopath, who has stolen the original Martin Chuzzlewit and intends to kill off the main character if his demands are not met. Of course this will have a catastrophic impact on the story, of course; it will no longer exist basically. So there you have the beginning; Thursday's adventures progress from there. It's fascinating and wild and well-written and so darned interesting. Enjoy!!!
7.
The Absent One
by
Jussi Adler-Olsen
- (Scandinavian Mystery/ 4 stars) The first book in the Station Q mysteries, set in Denmark, was a pleasant surprise last year. I was worried about the sophomore jinx with this second book, but I needn't have been. The story was different and excellent. Detective Inspector Morck is such an interesting character, intelligent, troubled, thoughtful and funny. His assistant, Assad, is a wily, hard working character and I still want to find out more about him. Added to the mix in this second story is Rose, an unwanted assistant thrust upon Morck by his boss. But we find that Rose, even though she is outspoken and irritates Morck to no end, she also proves to be a smart, independent thinking and hard working. I like how Olsen presents his stories, alternating from the point of view of Morck and that of the suspect(s). It's a dark story, edgy and hard hitting but engrossing all the same. If you enjoyed the first book, you won't be disappointed with the next in the series. Give it a try.
8.
Shame
by
Karin Alvtegen
- (Scandinavian mystery/ 4 stars) - I've read 4 of Karin Alvtegen's books and have enjoyed every one. Shame was excellent. It's usually found in the mystery section, but really, it's about situations and people and how these situations are resolved. And when Karin Alvtegen is writing the story, the resolution is very well-crafted. The two main characters in this book are Monika, a successful doctor, and Maj-Britt, an extremely over-weight home-ridden bitter woman. Both have issues and in many ways are broken. Gradually through the course of the story, they are brought together and by this contact a resolution of sorts comes about. Is it a satisfactory resolution? You'll have to read to decide. Neither character is particularly likable, but you are drawn to them. There are some interesting supporting characters as well, especially Ellinor (who I liked very much) and Vanya, an old friend of Maj's. The story is gritty, at times dark, with many psychological issues, but it's also engrossing and draws you in deeply. As you get further into the story, you may find yourself turning page after page to see how things will tie up. I think in some ways, Alvtegen is a similar type of writer to Minette Walters, dealing with interesting story lines and characters. I've not been disappointed yet.
March Selections
I've got 3 books on the go at the moment to start off March. They are -
1.
A Beautiful Blue Death
by
Charles Finch
- (Historical Mystery) This is the first of the Charles Linux mysteries, set in London. It reads easily but even though I'm half way through it, I still haven't totally warmed to the character. Linux is a gentlemen detective, who spends most of his time in his den, reading up on places he hasn't really visited. He finds himself involved in the death of a serving girl, requested to investigate by his neighbour, the lovely Lady Jane, an old acquaintance. There is maybe a frisson of a romance between the two, but time will tell about that. Linux doesn't really seem to do much, but he is investigating the various suspects, getting assaulted by mysterious gangsters. It's an interesting read, not sure how entertaining it's been. Time will tell how it all ends up.
2.
Bitten
by
Kelley Armstrong
- (Fantasy - werewolves/ Canadian Lit) - I decided to read this book and maybe the series due to the fact that it's been turned into a Fantasy series by our SciFi television network and both Jo and I have really enjoyed the first season and are enjoying Season 2 even more. This is the synopsis of the book "Elena Michaels is the world's only female werewolf - and she's tired of it. Tired of a life spent hiding and protecting, tired of a world that not only accepts the worst in her - her temper, her violence - requires it. Worst of all, Elena realises she's growing content with that life, with being that person. Overwhelmed by the new passions coursing through her body, Elena leaves the Pack and moves to the city to try living as a human. When the Pack leader calls to ask for her help fighting a sudden uprising, she only agrees because she owes him. Once this is over, she'll be squared with the Pack ad free to live life as a human. Which is what she wants. Really." I'm enjoying the book so far, it's slowly developing the characters, so it's not a fast read at the moment, but I'm looking forward to seeing how the book develops and how it might differ from the TV series.
3.
The Dead of Winter
by
Rennie Airth
- (Historical Mystery) This is the third book in the Inspector John Madden series. I enjoyed the first and the second even more so. This latest is set during WWII and brings back Madden out of his retirement to try and solve a murder. "On a freezing London night in 1944, Rosa Novak is brutally murdered during a blackout. Scotland yard suspects the young Polish refugee was simply the victim of a random act of violence. They might have dropped the case if former police investigator John Madden hadn't been Rosa's employer. Madden feels he owes it to Rosa to find her killer. Pushing the investigation, he stumbles upon the dead girl's connection to a murdered Parisian furrier, a member of the Resistance and a stolen cache of diamonds. But with all of Europe ravaged by the war, can Madden find the killer before he strikes again?"
Possible other March Reads
-
1.
A Beautiful Place to Die
by
Malla Nun
(Mystery set in Africa, Emmanuel Cooper #1)
2.
Sharpe's Fury
by
Bernard Cornwell
(Historical Adventure, Sharpe #11)
Enjoy your March Reading choices!