In one of my earliest posts of December, I provided my first thoughts on what I might do for my Reading Group Challenge in 2014. Well, I've now finalised my list so below is my list of books. One change that the Book Addicts moderators made to the 2014 challenge. Normally we provide 12 books plus 2 alternatives. They changed it slightly to give everybody more flexibility by making it 4 alternatives. So with my love of list making, I got to pick 2 more books. :0)
So without further ado.... drum roll please... tatatatatadum, here is my list of books -
1.
Classics
-
Parade's End
by
Ford Madox Ford
.
Ford Madox Ford's tetralogy set in England during World War I is widely considered one of the best novels of the twentieth century. First published as four separate novels (Some Do Not…, No More Parades, A Man Could Stand Up, and The Last Post) between 1924 and 1928, Parade's End explores the world of the English ruling class as it descends into the chaos of war.





2. Fiction - Mimic Men by V.S. Naipaul. A profound novel of cultural displacement, The Mimic Men masterfully evokes a colonial man's experience in a post colonial world. Born of Indian heritage and raised on a British-dependent Caribbean island, Ralph Singh has retired to suburban London, writing his memoirs as a means to impose order on a chaotic existence. His memories lead him to recognise the paradox of his childhood during which he secretly fantasised about a heroic India, yet changed his name from Ranjit Kripalsingh. As he assesses his short-lived marriage to an ostentatious white woman, Singh realises what has kept him from becoming a proper Englishman. But it is the return home and his subsequent immersion in the roiling political atmosphere of a newly self-governed nation that ultimately provide Singh with the necessary insight to discover the crux of his disillusionment.


3. Non-Fiction - The Long Run by Matt Long . On the morning of December 22, 2005, Matt Long was cycling to work in the early morning when he was struck by and sucked under a 20-ton bus making an illegal turn. The injuries he sustained pushed him within inches of his life. Miraculously, more than 40 operations and months later, Matt was able to start his recovery. In spite of the severity of his injuries, Matt found the psychological consequences of the accident nearly as hard to process. He would no longer be able to compete at the highest level. In the 18 months before the accident, he had competed in more than 20 events including several triathlons and marathons and had qualified for running's most prestigious race, the Boston Marathon. After the accident, his doctor told him he'd be lucky if he could even walk without a cane. The Long Run is an emotional and incredibly honest story about Matt's determination to fight through fear, despair, loneliness, and intense physical and psychological pain to regain the life he once had. The book chronicles Matt's road to recovery as he teaches himself to walk again and, a mere three years later, to run in the 2008 New York City Marathon—a gimpy seven-and-a-half hour journey through the five boroughs. "Running saved my life," Matt says, and his embrace of the running community and insistence on competing in the marathon has inspired many, turning him into a symbol of hope and recovery for untold numbers of others.


4. Mystery - The Keeper of Lost Causes by Jussi Adler-Olsen. The Keeper of Lost Causes, the first instalment of Adler-Olsen's Department Q series, features the deeply flawed chief detective Carl MØrck, who used to be a good homicide detective-one of Copenhagen's best. Then a bullet almost took his life. Two of his colleagues weren't so lucky, and Carl, who didn't draw his weapon, blames himself. So a promotion is the last thing Carl expects. But it all becomes clear when he sees his new office in the basement. Carl's been selected to run Department Q, a new special investigations division that turns out to be a department of one. With a stack of Copenhagen's coldest cases to keep him company, Carl's been put out to pasture. So he's as surprised as anyone when a case actually captures his interest. A missing politician vanished without a trace five years earlier. The world assumes she's dead. His colleagues snicker about the time he's wasting. But Carl may have the last laugh, and redeem himself in the process.


5. Sci Fi/ Fantasy - Wool Omnibus by Hugh Howey.

In a ruined and toxic landscape, a community exists in a giant silo underground, hundreds of stories deep. There, men and women live in a society full of regulations they believe are meant to protect them. Sheriff Holston, who has unwaveringly upheld the silo's rules for years, unexpectedly breaks the greatest taboo of all: He asks to go outside. His fateful decision unleashes a drastic series of events. An unlikely candidate is appointed to replace him: Juliette, a mechanic with no training in law, whose special knack is fixing machines. Now Juliette is about to be entrusted with fixing her silo, and she will soon learn just how badly her world is broken. The silo is about to confront what its history has only hinted about and its inhabitants have never dared to whisper. Uprising.




6. Classic - The Ladies' Paradise by Emile Zola - The Ladies Paradise (Au Bonheur des Dames) recounts the rise of the modern department store in late nineteenth-century Paris. The store is a symbol of capitalism, of the modern city, and of the bourgeois family: it is emblematic of changes in consumer culture and the changes in sexual attitudes and class relations taking place at the end of the century. Octave Mouret, the store's owner-manager, masterfully exploits the desires of his female customers. In his private life as much as in business he is the great seducer. But when he falls in love with the innocent Denise Baudu, he discovers she is the only one of the salesgirls who refuses to be commodified.




7. Mystery - In the Woods by Tana French.

As dusk approaches a small Dublin suburb in the summer of 1984, mothers begin to call their children home. But on this warm evening, three children do not return from the dark and silent woods. When the police arrive, they find only one of the children gripping a tree trunk in terror, wearing blood-filled sneakers, and unable to recall a single detail of the previous hours. Twenty years later, the found boy, Rob Ryan, is a detective on the Dublin Murder Squad and keeps his past a secret. But when a twelve-year-old girl is found murdered in the same woods, he and Detective Cassie Maddox - his partner and closest friend - find themselves investigating a case chillingly similar to the previous unsolved mystery. Now, with only snippets of long-buried memories to guide him, Ryan has the chance to uncover both the mystery of the case before him and that of his own shadowy past.







8. Sci Fi/ Fantasy - Neverwhere by Neil Gaiman.

Richard Mayhew is a plain man with a good heart - and an ordinary life that is changed forever on a day he stops to help a girl he finds bleeding on a London sidewalk. From that moment forward he is propelled into a world he never dreamed existed - a dark subculture flourishing in abandoned subway stations and sewer tunnels below the city - a world far stranger and more dangerous than the only one he has ever known.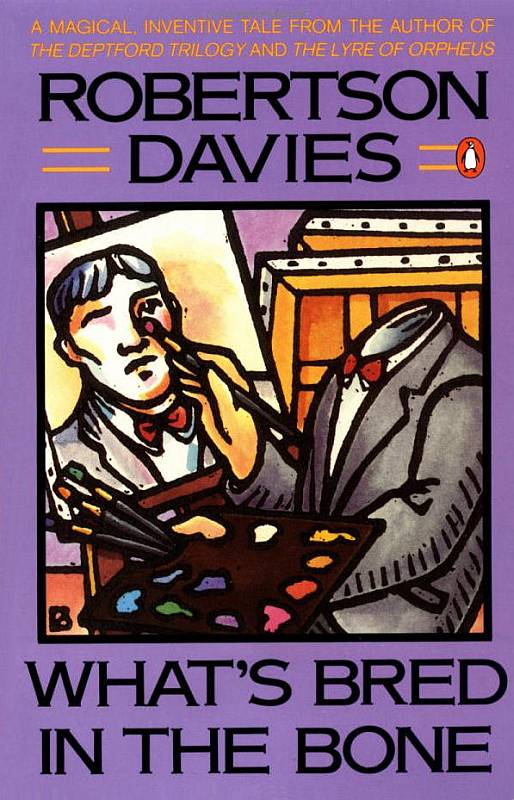 9.
Fiction
-
What's Bred in the Bone
by
Robertson Davies
. Francis Cornish was always good at keeping secrets. From the well-hidden family secret of his childhood to his mysterious encounters with a small -town embalmer, an expert art restorer, a Bavarian countess, and various masters of espionage, the events in Francis's life were not always what they seemed. In this wonderfully ingenious portrait of an art expert and collector of international renown, Robertson Davies has created a spellbinding tale of artistic triumph and heroic deceit. It is a tale told in stylish, elegant prose, endowed with lavish portions of Davies's wit and wisdom.
10.
Classic
-
A Room with a View
by
E.M. Forster
.
Published in 1908, A Room with A View is one of E. M. Forster's most celebrated works. Forster explores love among a cast of eccentric characters gathered in an Italian pension and in a corner of Surrey, England. Caught up in a world of social snobbery, Lucy Honeychurch must make a decision that will decide the course of her future: She is forced to choose between convention and passion.
11.
Non-Fiction
My Week with Marilyn & The Prince, the Showgirl and Me
by
Colin Clark
. England, 1956. Hollywood's biggest star- Marilyn Monroe- desperately needs time away from a difficult movie shoot opposite Laurence Olivier and the pressures of her new marriage to the playwright Arthur Miller. She turns her attention to Colin Clark, a young and handsome assistant on the set. Together they escape, beginning a remarkable true adventure: an innocent week in the English countryside in which Clark becomes Marilyn's confidant and ally... and maybe falls a little bit in love.
Mystery
-
A Murderous Procession
by
Ariana Franklin
. In 1176, King Henry II sends his daughter Joanna to Palermo to marry his cousin, the king of Sicily. Henry chooses Adelia Aguilar, his Mistress of the Art of Death, to travel with the princess and safeguard her health. But when people in the wedding procession are murdered, Adelia and Rowley must discover the killer's identity . . . and whether he is stalking the princess or Adelia herself.
And then the 4 alternates...
Classic
-
Down and Out in Paris and London
by
George Orwell
. In Paris, Orwell lived in verminous rooms and washed dishes at the overpriced "Hotel X," in a remarkably filthy, 110-degree kitchen. He met "eccentric people – people who have fallen into solitary, half-mad grooves of life and given up trying to be normal or decent." Though Orwell's tone is that of an outraged reformer, it's surprising how entertaining many of his adventures are: gnawing poverty only enlivens the imagination, and the wild characters he met often swindled each other and themselves. The wackiest tale involves a miser who ate cats, wore newspapers for underwear, invested 6,000 francs in cocaine, and hid it in a face-powder tin when the cops raided. They had to free him, because the apparently controlled substance turned out to be face powder instead of cocaine.
In London, Orwell studied begging with a crippled expert named Bozo, a great storyteller and philosopher. Orwell devotes a chapter to the fine points of London guttersnipe slang. Years later, he would put his lexical bent to work by inventing Newspeak, and draw on his down-and-out experience to evoke the plight of the Proles in
1984
. Though marred by hints of unexamined anti-Semitism, Orwell's debut remains, as
The Nation
put it, "the most lucid portrait of poverty in the English language."
Non-Fiction
-
A Crack in the Edge of the World
by
Simon Winchester
.
In the early morning hours of April 18, 1906, San Francisco was overcome by the violent shocks of an enormous earthquake, registering 8.25 on the Richter scale. The tremors and rumbling, affecting a swathe of California more than 200 miles long, triggered a vast firestorm in the city, effectively destroying the gold rush capital that had stood there for half a century. Simon Winchester brings his inimitable storytelling abilities to this extraordinary event, exploring not only what happened in northern California nearly 100 years ago, but what we have learned since then about the geological underpinnings that caused the earthquake in the first place.
Alt 3 - Mystery - The Hypnotist by Lars Kepler.

Tumba, Sweden. A triple homicide, all of the victims from the same family, captivates Detective Inspector Joona Linna, who demands to investigate the grisly murders -- against the wishes of the national police. The killer is at large, and it appears that the elder sister of the family escaped the carnage; it seems only a matter of time until she, too, is murdered. But where can Linna begin? The only surviving witness is an intended victim -- the boy whose mother, father, and little sister were killed before his eyes. Whoever committed the crimes intended for this boy to die: he has suffered more than one hundred knife wounds and Lapsed into a state of shock. He's in no condition to be questioned. Desperate for information, Linna sees one mode of recourse: hypnotism. He enlists Dr. Erik Maria Bark to mesmerise the boy, hoping to discover the killer through his eyes. It's the sort of work that Bark had sworn he would never do again-ethically dubious and psychically scarring. When he breaks his promise and hypnotises the victim, a long and terrifying chain of events begins to unfurl.
Alt 4 - Sci Fi/ Fantasy -

Twelve-year-old Meggie learns that her father, who repairs and binds books for a living, can "read" fictional characters to life when one of those characters abducts them and tries to force him into service. Characters from books literally leap off the page in this engrossing fantasy. Meggie has had her father to herself since her mother went away when she was young. Mo taught her to read when she was five, and the two share a mutual love of books. He can "read" characters out of books. When she was three, he read aloud from a book called Inkheart and released characters into the real world. At the same time, Meggie's mother disappeared into the story. This "story within a story" will delight not just fantasy fans, but all readers who like an exciting plot with larger-than-life characters.
So there you have it, my 12 + 4 Reading Group Challenge books. Now the trick will be what one to start with.. :0)
Have a great weekend!